Testimonials
ENOWEB a tailor-made program, even for the most demanding professional
Originally from Irpinia, Francesco Cioria completed his studies at the Enrico Mattei hotel institute in Vieste. At first with the intention of following the professional path of a cook, but after three years he is convinced that his true path is that of the dining room and the sommelier.
After graduating, he moved to Rome where he worked in several restaurants before landing at the Regional Enoteca of Lazio and then at the Michelin-starred restaurant and Relais & Chateaux La Posta. Subsequently he leaves Italy for an experience abroad (London) where he works in another starred restaurant and in a private club to return in 2009 to Italy at San Domenico di Imola for what will be his first experience alongside the Marcattilii family.
This is followed by some highly formative steps in Australia (where he supports a new opening for about a year) and again in Italy where he is responsible for a hotel with attached restaurant and catering service. These are commitments in very different structures that nevertheless have a certain degree of complexity in common. "In my professional career - Francesco Cioria reiterates - I have always looked for something that would stimulate me by making me learn new things".
Then one evening, almost by chance, he returns as a customer to San Domenico to greet his old colleagues and here the unexpected happens that then - if you think about it - it was not so unexpected because you hear an offer made of what is difficult to do. to refuse: the possibility of returning to what has always been his home for him, but this time as the first person in charge of managing the winery.
Francesco Cioria, like his other colleagues who have found themselves managing important realities, of wineries that have made the history of Italian catering, found himself on his arrival faced with a still traditional management of the inventory, of the loading and unloading of the warehouse and updating of the wine list. In his case too, the choice made to computerize and modernize management fell on ENOWEB.
How did you find out about the ENOWEB program?
Simply by searching the Internet. We had decided to equip our structure with a cellar computerization program and so after an initial analysis of the various proposals on the network, we selected E-Group and its program. It took just one live presentation of the product, which is very detailed, to understand that it was exactly what we were looking for.
Why did you decide to equip yourself with a cellar management program? What problems in particular led you to this solution?
Let's say that a winery like ours that has several thousand labels really needed efficient IT support. Our cellar contains almost 2400 labels and a total of 14 thousand bottles. Until that moment everything was done "by hand": loading, unloading, inventory, everything was managed with a traditional warehouse management system and we were really struggling to keep up with stock updates. Without calculating the heavy waste of time.
2400 labels, 14,000,000 bottles ... these are important numbers but I imagine that within these there are also a part of historical bottles considering that the history of San Domenico began in the 1970s?
Yes it's true, our cellar is the result of a very long history and has almost half a century of life. At the IT management level there was nothing. As I have already told you, there was a loading and unloading stored on a simple warehouse management system and then printed from time to time. It was a pretty complicated situation. Both for movements and inventories. At the end of the year, it was necessary to close whole days in the cellar and count everything again.
How long have you been introducing ENOWEB? And how has this changed your internal organization?
Next summer it will be two years since the introduction of ENOWEB, I believe we were among the first starred restaurants to do so. The first thing I would like to say about it is that, compared to before, the management of the cellar now takes us much less time. The second aspect is security, the absolute certainty of always having truthful information in hand. Being able to have the security of having everything under control on a daily basis and at any time is essential. Of course, you must be careful to correctly load the incoming purchase notes, but once you have done this, you can rest assured about the correspondence between inventory and the real situation of the cellar. Then with the barcode applied to each bottle both loading and unloading are very fast. In particular for me, who also dealt directly with this aspect, the introduction of labels with digitally readable codes represented a huge saving of time and the possibility of being able to devote myself to the aspects of my work that I love the most.
Are there any program-specific features that you found most useful?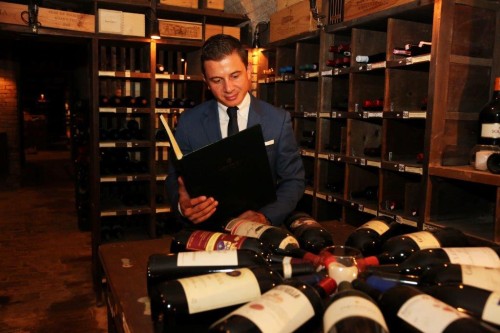 For example, I found it very convenient that the wine list is automatically generated by ENOWEB and that it is no longer necessary to do the intermediate step with a separate Word file. In this way, even if you have to generate a wine list of almost one hundred pages, like ours, everything becomes simpler. I was also surprised by the ease with which it is possible to customize not only the graphics and layout of the paper but also the creation of groupings (by territory, by grape variety, by producer, etc.). He sees each winery has its own history and its own construction "philosophy" and the truly remarkable fact was that we were able to do exactly all of this. ENOWEB, in other words, didn't force us to change the way we present the fruit of our research to customers but helped us to make it more rational and simpler.
Does all this also change the way you relate to customers in the dining room? For example, have you decided to introduce the tablet to the tables?
No, we don't do this yet. We have it as a possibility but since ours is a particular restaurant, with a great history, we are very attached to our traditions and also our customers still ask us for the wine list, they want to have the pleasure of weighing and leafing through the wine book, an object that still retains its charm.
How often do you print the wine list?
In reality, once we have set everything up, we print only once because our wine list is structured in mobile cards. So when a new bottle arrives or stocks run out, I just remove and add the relative card.
Your winery as we mentioned earlier is one of the most important in Italy, not only in size but also for its history, can we talk about it a bit?
As I said, we are talking about around 2400 different labels with a history that goes from the sixties with regard to wines from the second half of the fifties onwards. So we really have a little bit of everything. The wine list is made up of seventy percent of Italian labels and the remainder of foreign ones where we find, of course, the great French wines (Champagne, Bordeaux, Burgundy), but also the United States, New Zealand, Australia, in short, a bit from Worldwide. Returning to the Italian labels we can say that the two most represented regions are Piedmont and Tuscany with their great reds.
Then if one of our customers wants to take away the whim of consuming a historic bottle we have a parallel wine list dedicated to old vintages that offers about 250 labels. Of course, in the wine list of the old vintages there is not everything that is in the cellar, which precedes 1985. It often happens that we uncork and taste a few bottles and, once we have established that it deserves to end up on the menu, we offer it to our customers. The customer who loves this type of wine or is looking to satisfy personal curiosity and asks us to taste a particular vintage or wine can choose directly from this wine list or rely on us to be recommended even on those bottles that precede 1985 which we have chosen not to put on the menu but which remain available to our guests.
Is there any other special information you are happy to share with our readers and colleagues?
Yes, first of all I would like to underline E-Group's willingness to constantly follow us, first in the start-up and installation phases but also subsequently. In particular in the first period during which we took steps to inventory the entire warehouse, their presence, even physical, with us helped us to speed things up and prevented us from making mistakes.
Then he must know that ours is a fairly complex profession. Each of us has his own way of working and works according to the procedures he deems most right. Then I am very picky in my things and I was afraid that adopting the program could mean having to compromise with respect to the working methods that I had perfected over years of experience, but thanks to the basic structure of the program, extremely flexible, the E-Group technicians they easily managed to fulfill all my requests.
[23-03-2018]
Piergiovanni Mometto [www.mometto.net]