Testimonials
The trattorias of the past? Who said they are gone?
Interview with Davide Minoletti, owner of the restaurant La Rampolina in Campino di Stresa.
The restaurant La Rampolina is located in Campino di Stresa. To get there, go up from Baveno or Stresa for about 3 km. "When we reach the restaurant - says the presentation on the website - something magical opens up before us, an evocative landscape that leads our eyes to see the entire gulf below, the islands, the branching off of the lake and the mountains in the background, Wow! ". This is exactly how the sentence ends, with this exclamation which is perhaps the only way to fully describe the priceless view that can be enjoyed from here.
The cuisine of Rampolina refers to tradition with the typical specialties of Piedmont but also with some classics of Italian cuisine. Great attention is given to the use of seasonal products from the mushrooms of the surrounding woods, to the agricultural and livestock products of Upper Piedmont and the Ossola valleys, home to extraordinary cheeses, meats and cured meats and of course to those of fishing in the Lake Maggiore.
A successful formula that attracts a mix of local and international customers and that - especially in high season - allows for record numbers. Really many people who go this far, not only to benefit from the incomparable view, the coolness in the summer and a quality and authentic cuisine, but also to enjoy a wine list built by the owner in years of research in which he has given free rein to his passion for the wines of his territory. Not only the great reds of Piedmont, known all over the world, the wine list of Davide Minoletti, with over 350 labels almost all from Piedmont, is an act of love for his land, a photograph of a region with an extraordinary wine richness that few know thoroughly.
Mr. Minoletti how did you find out about ENOWEB?
"We had a fairly pressing need to catalog the wines from our cellar. After a brief search on the internet, we identified the ENOWEB website and contacted the company that had developed it. Fortunately in those days the manager of E-Group was in Milan for work and therefore almost immediately came to us.
After seeing a complete demonstration on how the program works, I immediately convinced myself of the purchase. ".
In addition to ENOWEB, have you also evaluated other products?
"No. To tell the truth we haven't considered other proposals. It was a choice made first of all on the program and its functionality but also on personal qualities and the extreme availability of our interlocutors. These things have their own importance.
We needed to find an immediate solution that would facilitate the management of the cellar but we also had little time available to devote to the learning phase. ENOWEB was not only complete as a program but also very simple to use. The price was also absolutely adequate for our possibilities. So I didn't think it necessary to look for other solutions also because we had fairly immediate needs to solve. "
When you talk about immediate needs, what are you referring to in particular?
"I briefly describe to you what our situation was. We have a wine list with many Piedmontese labels, with the addition of a few foreign bottles, in particular Champagne. Everything is located in a cellar of about 350 square meters completely occupied by the bottles. With each new order arriving there was the risk of creating confusion because extricating oneself in those conditions was not at all easy. At that time of the year (we were in February) our business gives us a little respite and so we wanted to take advantage of these weeks to take the time to catalog and inventory the bottles and start the new season in complete tranquility "
Do you also apply barcode labels?
"Yes, of course. We apply the label with the codes to all the bottles that enter the cellar. As the bottles arrive, we catalog them, shipping note in hand, create the labels with the bar code and apply them on the bottles and finally arrange them in the cellar. Then as we sell them we peel off the label and put it on a panel and from this panel at the end of the evening we unload and update the warehouse. Of course, this already fast procedure could be further improved if our management software were among those compatible and integrated with ENOWEB. However, we are already absolutely satisfied. Now our cellar is finally under control. "
One of the strengths of ENOWEB is represented by the management functions (updating, layout and printing on paper and digitally) of the wine list. Do you offer your customers the traditional physical wine list or the digital one on a tablet?
"We bring the traditional physical wine list to the table. Ours is a classic trattoria and our customers are tied to a traditional context and they choose us for this reason too ".
What are the numbers of your cellar and your restaurant?
"We have more than 350 labels and around 11,000 bottles in the cellar. These are important numbers for a restaurant that reflect what is one of our passions. Then we don't have just the restaurant. For example, we have several show wine cellars with the wine on display and an internal shop where we also sell wine along with many quality products of the local gastronomy. It is a particular place, very popular especially in summer by foreign tourists.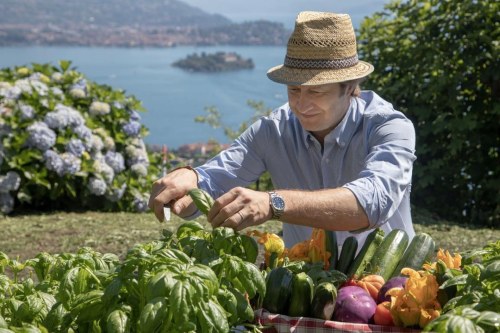 Then I believe that for a trattoria, wine represents an important aspect, especially if it is wine produced in the territory. It is my precise choice to propose and push our Piedmontese wines as much as possible, even if I see that it really takes a lot of effort because they are wines that are not sold, are not in demand and little known to the general public. In Piedmont there are not only Barolo and Barbaresco. Among the wines that have in our list, in addition to Barolo, Barbaresco, Nebbiolo, I like to point out the Barbera of the Verga winery which has more than 120 years of history, the Timorasso dei Colli Tortonesi, the Carema that can be produced with Nebbiolo grapes only. within the municipality of the same name in the Alto Canavese area, a wine that boasts the qualification of Slow Food presidium. And then we have all the wines of Upper Piedmont from Sizzano, Ghemme, Boca and gradually everything else. They are all wines of great quality but with a very limited production and have a relatively high entry price. You understand that in order to drink a good Sizzano, our customer has to pay for it as much as a Barolo which in the first band is at this same cost. But Barolo is a wine known all over the world and so rather than experimenting with new wines for the same price, our customers would tend to stay on the classic. It's me who often try to push them to try something new. "
In short, his is almost a "mission" to introduce lesser known but high quality products to customers. What are the characteristics of your customers?
"We work mainly with the territory. Many people in our area (we are located just above Stresa) are regular customers. From our restaurant you can enjoy a truly priceless view of Lake Maggiore and the Borromean Islands, which are right below us. Indeed, if I can give advice to those who read us, it is to go not only on our site but also on our Facebook page. It is my son who personally takes care of it and publishes many photos of the places and naturalistic beauties that surround the restaurant.
And then we have several Swiss here, we are just forty kilometers from Switzerland. In addition to the locals, many people from Milan, Legnano, Busto Arsizio and the Alto Milanese have now also become regular customers who can reach us quite quickly with forty minutes on the highway. And then there are many foreign tourists because Stresa is an important international tourist center and brings us a good audience, especially in the summer. However, the prevalence of our customers is local people. "
How do they behave in front of the proposals on your wine list?
"I have noticed that especially the Germans and the Swiss are usually very prepared and well informed when ordering a wine. But they are also the most open to listening to our advice and experimenting with bottles they don't know ".
Does it have to be a satisfaction when a customer orders a little-known bottle proposed by you? I imagine that looking for new producers is one of the most pleasant aspects of your profession?
"Look, this is certainly true and I would really like to have more time to devote to this aspect but in particular when we are in high season the commitments of the restaurant are so many. Just to give you an idea, it is enough to know that we have 22 employees, we do 1400 covers a week and we are open every day except Mondays. Even in summer, in full season, we keep Mondays as a closing day precisely because there is a need to give all our collaborators a little rest. "
These are really important numbers. Can you tell us in this context where time is probably the most precious thing, what has changed in the daily routine of your work with the arrival of ENOWEB?
"We have certainly gained a lot of time compared to before. But most of all we saved money. And I explain why. When you have cellars with so many bottles, if you don't have a correct inventory updated in real time, you risk placing orders for bottles that are already in the cellar. Now this isn't a problem for wines like Barolo and Barbaresco. Even if we have a few more bottles, you can easily leave them to age in the cellar, so you will always find a way to sell them. The problem is the other wines. Those that must be consumed young and with respect to which keeping excessive stocks really means throwing money out the window.
You see, for example. I cannot put a 2013 Arneis on the menu because this is a wine that should be drunk chilled. So here if I can honestly say what was the most obvious advantage we had with the introduction of ENOWEB for me it was this: the ability to manage inventory in an optimal manner, avoiding waste.
If I were to tell you what my biggest worry at the moment is the fact that I would like all my collaborators to have always turned on the program on their PDA with which they collect orders and on the screens arranged in the room where it is possible to check all orders. But it's a matter of habits that don't change in a few weeks. It just takes a little time. "
What other features of the program did you find very useful?
"I really liked the alert system that alerts you with an e-mail when a certain label reaches the minimum threshold in stock. It is useful not only to avoid running out of stock, but also because it helped me to understand that each label has its own minimum threshold level different from the others and this has had positive consequences on the optimization of purchases. Because you see if I have six bottles of '74 Barolo in the cellar it is clear that I don't need to place orders, but if I am left with six bottles of Barbera, considering that I sell thirty a day, then I am in trouble.
The consumption graph is also important because it helps us to know precisely what the consumption of a given label is based on the season. All this helps us to be absolutely calm when we go to place an order because we are aware that we are not making mistakes. "
In conclusion, what do you feel like saying to your colleagues in relation to ENOWEB?
"To recommend it absolutely! indeed, to tell the truth, I have already reported it to some restaurateur friends in the Stresa area. "
His cellar. Its 11 thousand bottles. The desire to introduce his customers to the great wine heritage of his land. These are the things that Davide Minoletti loves most about his work. He has chosen to entrust them to ENOWEB.
[12-10-2018]
Piergiovanni Mometto [www.mometto.net]