Testimonials
On a rainy day in Alta Badia Valley
Interview with Markus Valentini, owner and manager of the Ütia de Bioch refuge
In this interview we present a very particular reality, that of a high altitude refuge created to refresh hikers and skiers with the hearty cuisine of the Ladin valleys which however - over the last few years - has turned into a real gourmet destination. All this without renouncing the charm of a structure surrounded by nature from whose magnificent terrace it seems almost to touch the most beautiful peaks of the Dolomites with your fingers.
We are in Alta Valle Badia and the place is called Rifugio Ütia de Bioch. Ütia is the Ladin term used to indicate mountain huts. It is located at 2079 meters above sea level. Completely renovated respecting the typical characteristics of this type of housing, the Ütia de Bioch is managed with passion by the Valentini family. You can only get there on foot. On skis during the winter or summer season from San Cassiano, La Villa or Corvara using the ski lifts of the largest ski consortium in the world (the Dolomiti Superski) and after a short and healthy walk on the Dolomite mountain pastures.
Markus Valentini, owner and director of the structure, was among the first in the Valley to understand the potential of a gourmet proposal for the international public who frequent the Dolomite context. "Here we continue to offer classic Ladin cuisine but at the same time we also serve dishes prepared by many starred chefs who have participated over the years in the" Skiing with taste "initiative".
Born in 2008 also thanks to an idea by Norbert Niederkofler of the St Hubertus restaurant, Skiing with taste every year involves several starred chefs who 'give' their own exclusive recipes to the participating huts. Together with the dish, the chefs also recommend a pairing wine. And it is precisely from here that the interest, already present for wine and its combinations in the kitchen by Markus Valentini, begins to turn first into a passion and then into a profession.
Markus Valentini, can you tell us how this transformation of the Ütia de Bioch matured from a classic refuge that offers mountain cuisine to a gourmet restaurant with a lot of attention to wine?
"An important role was played by the new needs expressed by our public. Ten years ago we started initiatives such as the Wine Skisafari where local wine producers come to present their product to our guests during the winter season. They are beautiful and engaging moments. From here we started to offer more and more wine in our restaurant. Then also the initiative I was talking about earlier, Skiing with taste requires that, in addition to the recipe, the starred chef author of the dish also indicates a pairing wine and this additional element has stimulated our interest in the world of wine. So slowly we started to enrich our wine list."
In terms of how much has your wine list grown in recent years?
"I don't remember exactly but before starting the experiences of Skiing with taste and Wine Skisafari I don't think I had more than thirty labels on paper. And now, when you called me, I was just checking the program and so I can tell you that we have about 900 labels to date. However, the biggest growth has occurred in the last five years, in parallel with a learning path on our part. You know, you go to restaurants, you listen to the advice of friends and colleagues… you meet the producers… it was a very nice journey."
How is your wine list structured?
"About 80% of our labels are South Tyrolean wines while most of the other labels come from other Italian regions. However, there is a small but significant presence of foreign wines, mainly Austrian, French and German but also American and then recently we met for example a producer from Kazakhstan. We went to him to visit the winery to understand how he works and we discovered an excellent product.
In short, we always try to be attentive to everything that is new in the world of wine, but our strength lies in the breadth and quality of our range of wines from our region. Do you think that this year we obtained an important recognition from the South Tyrolean Wine Consortium who wanted to reward us as the Best South Tyrolean wine list for the Alpine Refuges category. We were supposed to receive the award on November 30th, but today we were informed that the awards ceremony has been canceled due to health restrictions."
How was your wine list managed before choosing Enoweb?
"It was a real 'hard work' that took me for a long time ... I used a Word file that I was very hard to update and a management system where I started using PLU codes but it was really complicated and occupied me for a lot of time, you know how is it ... insert the codes and labels, calculate the prices, check the management system continuously because there were always errors ... yes it was really a hard job!"
How did Enoweb know it, did you see it used by other colleagues?
"No. It happened about a year and a half ago. I realized that I no longer had a reliable view of the warehouse and then, seeing that that day I had some breathing room because there was bad weather and ... it was raining, I started looking on the Internet for "online management wine list" and Enoweb was published among the search results. I saw what the program was doing and I phoned. Fabio Chinchio of E-Group answered me. When I learned in the course of the conversation that among Enoweb's customers there was also the Rosa Alpina of my dear friend Hugo Pizzinini, I put aside all doubts and asked him to come to me to see the work to be done."
What were the most evident advantages brought by Enoweb?
"First of all, it made our work in the room much easier. Over the years our cellar has grown in an impressive way and in the end I have been forced to divide it: a large cellar, a smaller cellar, a very large fridge, another smaller fridge ... in total the bottles are stored in five places different. Even though I had been warned to store them by type (all Pinot Noirs together, all Gewürztraminer on one side and so on), the result was that none of my collaborators were able to find the bottles quickly. Yes, of course, the most consumed ones in the end you knew where to find them but the others were always a problem… but now with Enoweb all my collaborators, without exception, are able to find any bottle immediately. Here this is the most beautiful thing. And then there is the cash register code (PLU) that allows the waiter to enter the management system to unload the bottle. In short, the errors have disappeared. He is no longer wrong and we are much faster in bringing the bottles to the customer."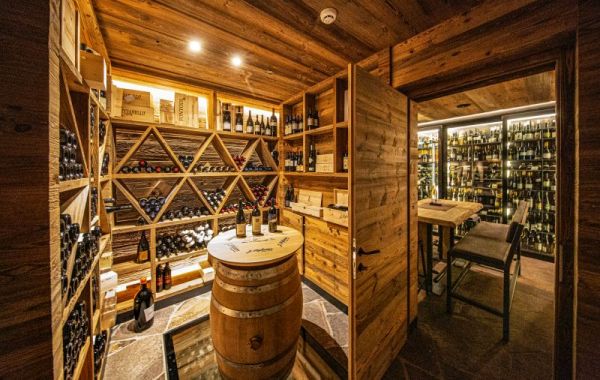 How did your customers receive the digital paper?
"I am reminded of the case of a customer from Singapore, who drank great wines and came quite often, even three times in a winter season. One day, leafing through the wine list, at one point he said to me: "Markus, I already know international wines well enough, I'd like to learn more about South Tyrolean production, but we need a more agile tool such as, for example, a digital map" . So I told him to be patient for a little while longer as I would soon be equipped with this instrument. And so I did.
Today that dialogue seems really far away to me because I can bring a digital wine list to the table of my international customers that not only allows them to quickly do all the research they want but the extraordinary thing is that I can present it in all the languages I want from English. to German, from Italian to Russian, from French to Spanish. Whatever the nationality of the client who sits at my table, I can provide him with a search tool in his language."
Has the type of orders at the table changed with Enoweb?
"Several things have changed. For example, today customers find it much less difficult to find wine with digital paper, but on the other hand I too can more easily set the structure of the paper according to search methods more in line with customer requests and my ideas. For example, I have recently entered a new search category based on the grape variety because more and more customers are interested in this characteristic for their choice of wine. And then, for example, I also included the "rosé" category and I assure you that I have never sold so many rosé wines as in this period.
In a few moments I can set the search categories to propose to the customer or create a category based on his specific requests. All this greatly facilitates the sale. First of all, I see a lot of interest from international customers for the wines of our territory and I realize that they also consult the wine sheets, they inquire about the producer, they want to know where he is, how he works and with Enoweb they have all this information.
Certainly, Enoweb has helped me to make the great work we have done in recent years to make known and promote the best producers of our territory more evident to my customers and therefore, why not? I can say that in a small part the merit of the award that has been awarded to us is also Enoweb."
November 10, 2020
Piergiovanni Mometto [www.mometto.net]